...Reflections
---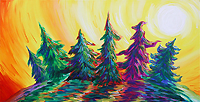 It's on the strength of observation and reflection that one finds a way. So we must dig and delve unceasingly.
- Claude Monet
---
Colour is my day-long obsession, joy and torment.
- Claude Monet
---
Where the spirit does not work with the hand there is no art.
- Leonardo da Vinci
---
My opinion is that the best thing would be to work on till art lovers feel drawn toward it of their own accord, instead of having to praise or to explain it.
- Vincent van Gogh